>> Monday, April 7, 2008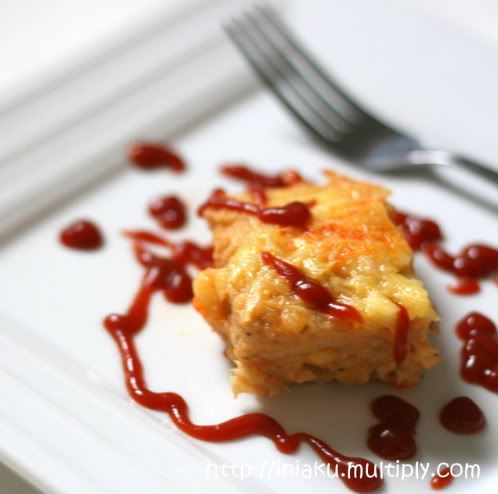 This one was a continuity of being addicted to Kungfu series, but not inspired by the serial. I made this simply because I didn't want to take my eyes off the screen and wanted to spend less time in the kitchen.

When I went to the kitchen and saw that I had soft bread that almost expired, I came up with this idea. Just mixed all the ingredients that came to my mind and baked them in the oven.

Thanks God, the result was just perfect, at least for me. It can be eaten for breakfast or brunch and even for snack during the movie ;)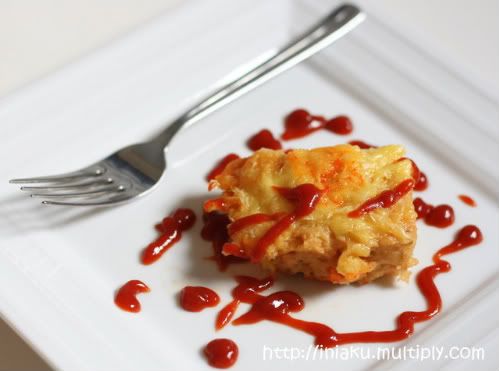 Ingredients:
8 pieces of soft bread (toast), frame out
8 medium sized shrimps, cleaned, peeled, minced
250 ml evaporated milk (non sweetened)
2 tbsp shredded Gouda cheese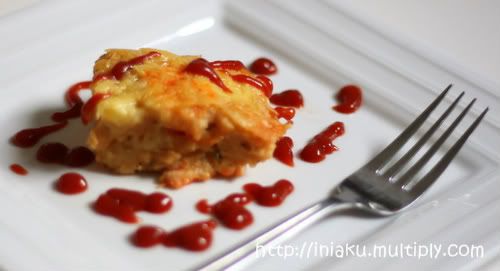 Spices:
1 tbsp mayonnaise
1 tbsp mustard (known as senf in Germany)
1 tbsp tomato ketchup
2 tbsp hot sauce
½ tbsp honey
1 tbsp salty soy sauce
1 tbsp fish sauce
Garlic powder as needed
Salt and white pepper powder as needed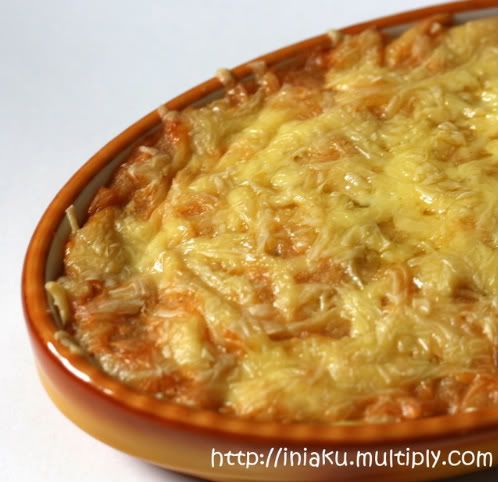 Topping:
Shredded Gouda cheese

Methods:
1. Place soft bread (toast bread) in a medium bowl. Pour into evaporated milk. Mix until the bread well blended.
2. Fold in minced shrimp and Gouda cheese. Mix well.
3. Add spices mixture. Mix well.
4. Place the batter into baking dish. Top with shredded cheese.
5. Bake in a preheated oven of 200°C for 45 minutes or until set.
6. Serve when hot with ketchup and chili sauce.